Time
Most of the country uses Mexico's Central Time most of the year. The only exceptions are the States of Baja California, Baja California Sur, Sinaloa, Sonora, Chihuahua and Nayarit, which Pacific Standard Time.
In the entire Mexican territory, we use daylight savings time (from April to October) as well as standard time (November to March).
Banks
Business hours for most Mexican banks are Monday through Friday from 9:00 AM to 5:00 PM. Some branches open on weekends. However, you can find automatic teller machines (ATM) in most streets in Mexico.
Currency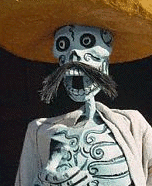 Mexico's currency is the Mexican Peso, available in coins and bills in several denominations. The most common bills are $20, 50, 100, and 500. Coins are 50 cents, $1, 2, 5 and 10 pesos.
Most foreign currencies can be exchanged for Mexican pesos at any money exchange places, which generally offer more flexible business hours and faster service.
Hotels offer the least favorable exchange rate, while the best rate is available at money exchange places. Traveler checks can be cashed at a slightly lower rate than currency.
Although Dollars are widely accepted in most Mexican tourist centers, we advice you to use Mexican Pesos during your visit.
Credits Cards
The most common credit cards in Mexico are Visa, MasterCard, and American Express. When you register in a hotel, they will request a credit card and you will have to sign a voucher. This is standard procedure, do not worry.